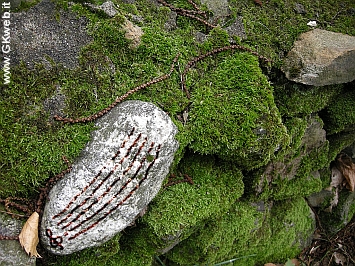 ETHNICA



























This section will host articles, essays, remarks, recommended links, and news about studies concerning a group of subjects: ethnomusicology, ethnology, anthropology, folklore, linguistics, archaeology, studies about the prehistory.

The complete essays posted here will have the explicit consent of their author, with regard to their publication on this site.
---
n.1
The Fanes: a saga in Italy…
Outside those who live in the involved areas and outside a few connoisseurs and experts, there are a few people who know that: there is a "saga" in Italy. In the valleys of the Dolomite Mountains (Eastern Alps), where the people speak Ladin, between the areas called Trentino, South Tyrol and Veneto, a very long and complex epic folk tale has been transmitted for centuries, through oral tradition: the story of the Kingdom of the Fanes (pronounced

Fah

-nehs). A story of princesses, shamans, kings, battles, talking animals, mythes and heroes that is by no means less interesting or less rich than the better known Nordic sagas or the classic Greek myths. A masterpiece which would deserve a larger consideration, being a quite valuable and unique phenomenon.
I have been knowing about the existence of the story of the Kingdom of the Fanes since I was a child. The story has been written down many times, and the best known written versions are those included in the books by Karl Felix Wolff at the beginning of the 20th century. I recommend to be acquainted with this real Dolomites "saga" and to get involved in the extremely interesting studies about its origins and its themes.
I invite you to visit the following links:
The kingdom of Fanes - wonderful site run by my friend Adriano Vanin, very exhaustive and updated.
Giuliano Palmieri - the site of my friend Giuliano Palmieri, an expert about the prehistoric times in the area of the Dolomite Mountains and the Eastern Alps.
You will find on these sites also many other references to studies about the Fanes saga, and also a bibliography (the books by Ulrike Kindl, in German, are of special importance).

---
n.2
The horns and the spiral
A deep research about the structure, distribution and origin of a nursery rhyme, which is known in hundred of different languages and in countless variants throughout Europe, from Norway to Sicily, from Ireland to Russia.
It deals with snails and some verses that the children use to declaim or sing when they see them:

"Snail, snail, put out your horns…"


A fascinating journey in an incredibly widespread tradition that seems to be deeply rooted into prehistorical beliefs.
Read all the story

HERE

.


---